Leaders and Best of Shiawassee Region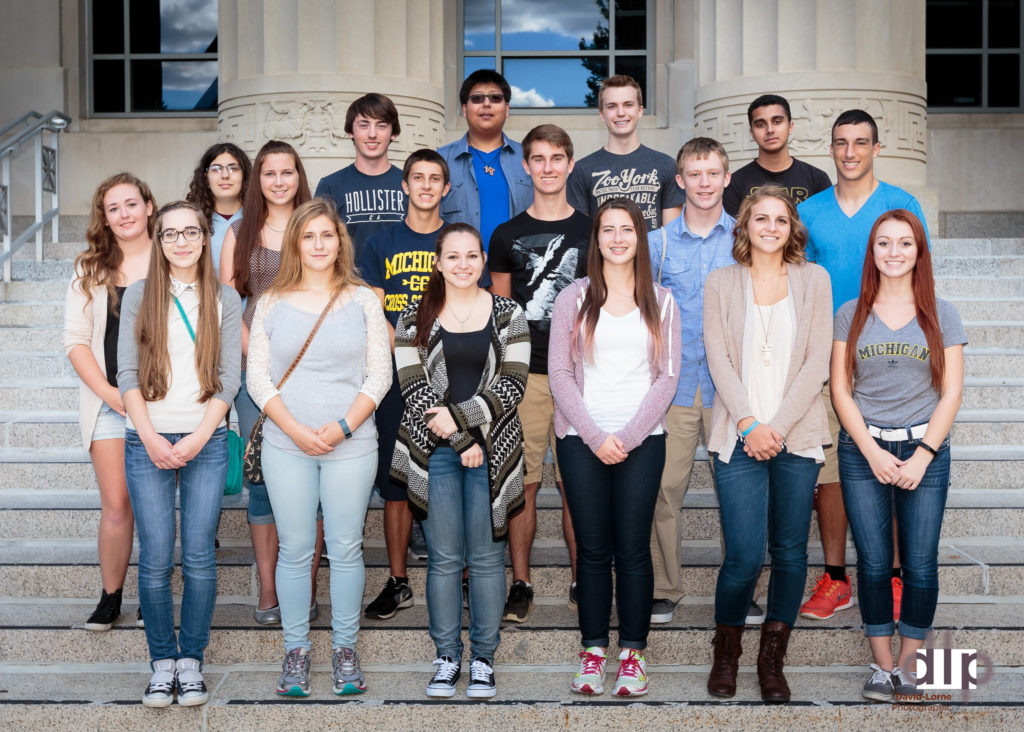 Twenty-seven of the most academically accomplished high school seniors from the Shiawassee County region have been nominated for scholarships to the University of Michigan by the Cook Family Foundation.  One of the students will be selected to receive a four-year, full-tuition scholarship from Bruce and Jacqueline Cook.
In order to assist them with their college selection, a number of the nominees recently attended an overnight trip to the University of Michigan where they met with admission officers, took a tour of the campus and stadium, attended a class, and had the opportunity to spend time with students from the Shiawassee County area presently enrolled at the University of Michigan.
The students from eight area school districts were nominated because of their high grade point average and test scores; all are outstanding students.  Based on their academic records, the promise of future academic success, and demonstrated leadership capabilities, one of these nominees will be selected to receive the Bruce and Jacqueline Cook Scholarship, which covers all tuition for an undergraduate education at the University of Michigan.
Each of the nominees will receive at least a $2,500 scholarship to the University of Michigan from the Cook Family Foundation.  In addition to these nominees, the Cook Family Foundation provides a scholarship to every local student who applies to the University of Michigan, is admitted, and then enrolls.  
The Cook Family Foundation was started in 1978 by Donald and Florence-etta Cook.  Bruce and Jackie Cook of Owosso have followed the lead of Bruce's parents by making a legacy gift to the University of Michigan to establish an annual scholarship for an academically talented student from Shiawassee County.  
If they apply and are admitted to the University of Michigan in Ann Arbor, the following students will be considered for the Bruce and Jacqueline Cook scholarship: from Byron, Rachel Dvorak, Shane Geiser, Hannah Hooley, Amanda Magnan, and Madison Montgomery; from Chesaning, Jozalynn Boucher, Elizabeth Hoornstra, Sarah Minnis, and Noah Moeggenborg; from Corunna, Noah Aurand, Kaylynn Crawford, Kaylee Euler, Hunter Glew, Noah Jacobs, Courtney List and Tyler Quirk; from Laingsburg, Paden Graham; from New Lothrop, Paige Alkire, Natalie Delemeester, Brandon Kline, and Tyler Ruddy; from Ovid-Elsie, Kayla Duckert; from Owosso, Dalton Brown, Usman Kahn, Sarah Landes, and Olivia Reale; and from Perry, Bradley Cronk.
Past recipients of the Bruce and Jackie Cook Scholarship have included Mitchell Lawrence from Byron in 2016, Nick Miller from Laingsburg in 2015, Nolan Wendling from New Lothrop in 2014, Emily Feuka from Perry in 2013, Sam Whaley from Perry in 2012, Adam Stewart from Laingsburg in 2011, Valerie Foster from Byron in 2010, Adam Dingens from Corunna in 2009, Randy Piper from Owosso in 2008, Dan Frechtling from Perry in 2007 and Kendra Frye of Owosso in 2006.
To learn more about our scholarship program, follow this link.