WHAT IS #GIVINGTUESDAY?
#GivingTuesday is a global movement held annually the Tuesday after Thanksgiving – this year on November 27. Again this year, several Shiawassee area non-profit organizations are working together to celebrate #GivingTuesday as a community under the collaborative hashtag of #raiseUPshiawassee.
HOW CAN I GIVE?
Click on the "donate to . . " button listed after the description of one, or more(!), of the groups listed below and you will automatically be transferred to an online giving site – where you can also learn more about the focus of each group's non-profit work.
Stop by. You may also participate by mailing in donations or dropping them off at each group's office (make sure to designate the gift to go toward #GivingTuesday or #raiseUPshiawassee).
Get a match. The Cook Family Foundation will be featuring one of the participating nonprofit organizations each business day in November on social media–AND will kickoff each featured nonprofit in their #GivingTuesday fundraising effort with a $500 donation and challenge! 

In addition, several of these nonprofits have found sponsors who will match online donations. 

Many small gifts can make a big impact.  What may seem like a small donation to you, when added with others, will mean a lot for these organizations.  They depend on gifts like yours to provide needed services to our community.
IS THERE MORE I CAN DO?
Attend our community "Find Your NonProfit Soulmates Event" at the Owosso Armory on Tuesday, November 13th, (click here for event information), generously sponsored by *United Way of Genesee County, the *Shiawassee Regional Chamber of Commerce, and the *Shiawassee Community Foundation.
Volunteer, by clicking on the "volunteer with . .

" button listed after their description.  You will automatically be transferred to an online volunteer opportunity site – where you can also learn more about the focus of each group's non-profit work. 

Share the news of your donation.  On social media, announce your gift, tell why you love the group you supported, and use #GivingTuesday and #raiseUPshiawassee,
Make a gift.  A donation to a local charity is a great way to shop for those you love who seem to have everything already.  The organization that receives your generous gift will acknowledge your gift directly to you or to someone special for whom you've given.
WE APPRECIATE YOUR GENEROUS SUPPORT FOR THESE COMMUNITY CHAMPIONS BELOW, 
 THANK YOU HELPING THEM TO: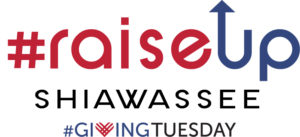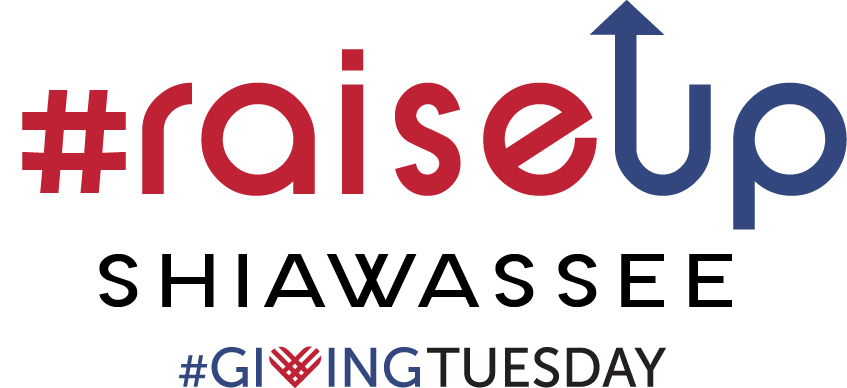 VOLUNTEER WITH THE ARC SHIAWASSEE
DONATE TO CHILD ADVOCACY CENTER
VOLUNTEER WITH THE CHILD ADVOCACY CENTER
DONATE TO DEVRIES NATURE CONSERVANCY
VOLUNTEER WITH THE DEVRIES NATURE CONSERVANCY
DONATE TO DOWNTOWN OWOSSO FARMERS MARKET
VOLUNTEER WITH THE DOWNTOWN OWOSSO FARMERS MARKET
DONATE TO DURAND UNION STATION, INC
VOLUNTEER WITH THE DURAND UNION STATION, INC
DONATE TO THE FRIENDS OF THE SHIAWASSEE RIVER
VOLUNTEER WITH THE FRIENDS OF THE SHIAWASSEE RIVER
DONATE TO GIRLS ON THE RUN-MID MICHIGAN
VOLUNTEER WITH GIRLS ON THE RUN-MID MICHIGAN
DONATE TO MEMORIAL HEALTHCARE FOUNDATION
DONATE TO OWOSSO COMMUNITY PLAYERS
VOLUNTEER WITH THE OWOSSO COMMUNITY PLAYERS
DONATE TO RESPITE VOLUNTEERS OF SHIAWASSEE
VOLUNTEER WITH RESPITE VOLUNTEERS OF SHIAWASSEE
DONATE TO SHIAWASSEE ARTS CENTER
VOLUNTEER WITH SHIAWASSEE ARTS CENTER
DONATE TO SHIAWASSEE COMMUNITY FOUNDATION
VOLUNTEER WITH SHIAWASSEE COMMUNITY FOUNDATION

DONATE TO SHIAWASSEE COUNCIL ON AGING
VOLUNTEER WITH SHIAWASSEE COUNCIL ON AGING
DONATE TO SHIAWASSEE FAMILY YMCA
VOLUNTEER WITH SHIAWASSEE FAMILY YMCA
VOLUNTEER WITH SHIAWASSEE HOPE
DONATE TO SHIAWASSEE HUMANE SOCIETY
VOLUNTEER WITH SHIAWASSEE HUMANE SOCIETY