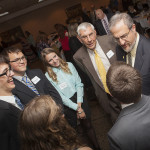 Why just the University of Michigan?  Donald Cook, the benefactor of the Cook Family Foundation, attended UM as did several members of the Cook Family.  We have built on this family tradition to become resident experts on this world-class institution of higher-learning. We like to tell high school students that UM-Ann Arbor is a good school to shoot for, because if you have the record to be admitted to UM, you will likely get into any other college in the State of Michigan.  Many students we work with look at other Big Ten universities, other highly-rated schools, and even Ivy League colleges.  We encourage you to apply to several schools to increase your choices and opportunities; the Common Application makes this easy to do, and allows you to apply to UM-Flint and UM-Dearborn also, by simply checking the box!  We are always happy to offer guidance on the college search process.
What Scholarships do you offer?  The University of Michigan and the foundation recently announced the University of Michigan Shiawassee Advantage.  Now a graduating high school senior with a grade point of 3.5 or higher from any of the ten high schools serving all or part of Shiawassee County will receive at a minimum one $3,000 scholarship from among the four scholarships connected to the Foundation's work if they enroll at a U of M campus in Ann Arbor, Flint or Dearborn (see our scholarship overview page for specific criteria).  In addition, students will become eligible for many of the substantial U of M merit-based scholarships as well as the full-tuition Go Blue Guarantee if they have demonstrated financial need.  Importantly, we work with students to help them qualify for financial aid and other scholarships from the University of Michigan (see "Can I Afford?" below), but you must first fill out our application at: cookfamilyfoundation.org/scholarships/.
The Donald Cook Scholarship is a four-year scholarship awarded annually to one or more students enrolled in the College of Literature, Science and the Arts (LS&A).  It is based on academic promise and considers the financial need of the applicant.  Your scholarship application to the Cook Family Foundation puts you into consideration for this award. Students who apply to other colleges (e.g. Engineering, Nursing) are not eligible for this scholarship, but are eligible for Foundation scholarships and the Bruce & Jacqueline Cook Scholarship.
Bruce and Jacqueline Cook work with the Foundation to annually award a four-year, full-tuition scholarship.  Students must be nominated for this scholarship; candidates receive a letter of invitation in late August of every year.  (If you were not nominated and want to be considered, please fill out our application HERE and note your SAT and/or ACT score as well as your GPA.) 
Kuhlman Family Scholarship:  since 2022 the Kuhlmans have worked with the Foundation and the University of Michigan to identify and provide one or more scholarships from the Bruce and Jacqueline Cook Scholarship nominees, utilizing the same criteria.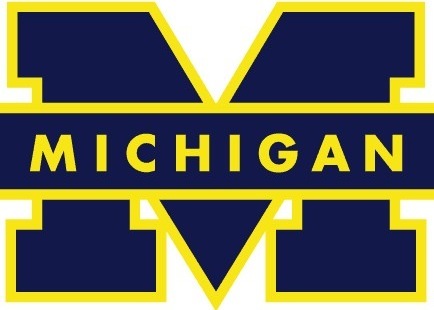 I hear about trips to the University of Michigan. Why was I invited?  What if I wasn't invited?  All nominees for the Bruce and Jackie Cook Scholarship (see our scholarship overview page) are invited to an overnight trip to tour the campus. We consult with high school counselors to identify students with the likelihood of attending UM. If you were not invited, it could be because you did not choose to send your SAT or ACT scores to UM, or because your high school was not aware of your interest or ability. (If you were not nominated and want to be considered, please fill out our application HERE and note your SAT and/or ACT score as well as your GPA.) We are committed to helping any student with an interest to attend the University of Michigan.  There are lots of ways to visit any of the three campuses of the University!  Contact us for help in arranging a visit. You can also take a virtual tour of any of the campuses online:  UM-Ann Arbor, UM-Flint, or UM-Dearborn.
What about UM-Flint and UM-Dearborn?  The University of Michigan has three campuses, and we support students who choose to attend any of them.  All schools have their unique strengths and we encourage Shiawassee area students to look at all three.  Admittance to Ann Arbor is quite competitive, and UM-Flint or UM-Dearborn both provide an additional pathway to a UM degree.  On the Common App, you can select to send your application to all three campuses at no additional cost or effort–simply check the extra box.  
Some students have started at either UM-Flint or UM-Dearborn and have transferred to Ann Arbor for their final undergraduate years. Other students find special academic programs, proximity to home, the opportunity to engage in athletics, or other reasons to spend four years at just one campus. In all cases, one needs to compare costs of tuition, scholarships, and housing and commuting costs to determine which school is the best value for you.
Can I get into the University of Michigan-Ann Arbor?  About one out of four applicants are accepted to UM-Ann Arbor each year, making it one of the most competitive schools in the state. However, an average 20-30 of the leaders and best students from the Shiawassee County area are typically admitted each year.  We are here to help you with your application.
UM considers every applicant as an individual and does a comprehensive review looking at all factors of academic performance, strength of curriculum, extracurricular activities, and leadership qualities. There is no single criteria that guarantees an acceptance letter, and admission varies with the major you might pursue (e.g. the criteria is different for engineers, nurses, etc.). Of course, very good grades and high test scores help, but we have seen many students with grades and scores lower than the averages be admitted. Your class rank, your educational experiences, and your essays are all important factors.  You can learn more about the selection process at the UM–Ann Arbor admissions website.  If you think UM is the school for you, you should apply.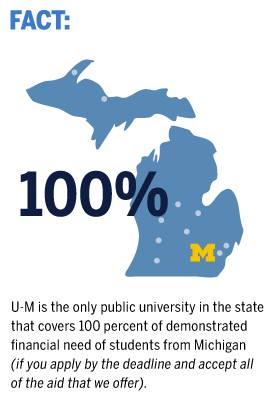 Can I Afford the University of Michigan?  UM, like many other four-year colleges, is expensive, but it provides more need-based assistance than any other school in Michigan. It is important to not just look at the listed price, especially if your family might be eligible for financial aid, which is the case for many from the Shiawassee County area.  The Go Blue Guarantee promises four years of free tuition to any family earning less than $75,000 and has assets of less than $60,000. Students from moderate income families also receive financial aid.  UM-Flint or UM-Dearborn may also offer a more affordable option.
Don't rule out any school on price until you receive a financial aid offer and all scholarships are awarded.  In the fall of your senior year, apply to several schools that you think are a good fit for you. Then fill out your CSS profile (see how-to video HERE)  and your Free Application for Federal Student Aid (FAFSA).   You will then get a financial aid offer and scholarships. With all colleges, you have until May 1 to decide.
UM is the only public university in Michigan to cover 100 percent of demonstrated financial need of in-state students, and this can make it the most affordable of choices for students from the Shiawassee region.  This process can be long and at times confusing, but we have been through it many times and can help you sort it all out.
Can I Afford All Four Years at the University of Michigan?  There are a variety of options for continuing students who may be struggling to meet the cost of attendence:  Consider a work study program or getting a job on campus; The Shiawassee Community Foundation offers scholarships beyond high school (Learn more HERE); Be sure to update your Scholarship Profile in Wolverine Access each year of attendance; the University also offers payment plans and provides emergency aid for students facing unexpected financial challenges (contact the Office of Financial Aid to explore your options HERE ); and finally, contact the Cook Family Foundation which can provide Shiawassee area students with some limited financial help upon request.
When Should I Apply?  When Will I Get an Answer?  We encourage you to apply in late October. While November 1 is the official Early Action deadline, submitting your application prior to this date will guarantee you a quicker answer. UM uses the Common Application and you can start on it August 1 (see the UM Admissions page of your campus location choice for specifics). Be sure to ask a teacher for a recommendation when school starts, and check that your test scores and transcript have been sent to UM.  You can apply to Ann Arbor as late as February 1 under "regular decision", and through spring to UM-Dearborn and UM-Flint.
Be sure to send an application to the Cook Family Foundation (see our page for details); it's required for a scholarship.
What if I am "postponed"? Don't panic. Because UM-Ann Arbor gets many applications from other parts of the country, they sometimes wait to give an answer to Early Action applicants.  In the past few years, several students from the Shiawassee County area have been postponed or wait-listed, but then did receive an acceptance later in the winter or spring.  You may want to consider UM-Dearborn and/or UM-Flint, which is another route that Shiawassee area students have followed to a University of Michigan degree.   All colleges and universities are committed to give you until May 1 to make a decision.  Feel free to give us a call and talk it through.
Is the University of Michigan-Ann Arbor too big?  There are about 28,000 undergraduates at UM (and another 15,000 graduate students), but it is not the biggest school in the State.  Its size is typical for a research-oriented university and thus UM offers lots (and lots) of class choices, degree options, and opportunities for learning. One of our favorites is UROP (the Undergraduate Research Opportunity Program) that allows first year students to tap into one of the big school advantages. UM is also a diverse place, with students and faculty from all 50 states and many foreign nations. UM won't feel like your high school; it will certainly expand your worldview.
The key to making a large school feel small is to get involved in a student group, and UM has more than 1,400 sports, religious, fraternal, political and other types of organizations. Many students choose to spend their first year in one of the many learning communities that give you an opportunity to combine academics and social life.  Still, some Shiawassee students find Ann Arbor a bit of a culture shock at first, but most quickly find their way around, meet some great people, and take advantage of all the UM has to offer.  And we won't abandon you: we are often in touch, offer opportunities to get together with other students from home, and are always here to help.
Is the University of Michigan right for me? Only you can determine that, but we want to be sure that all the best students from the Shiawassee County region take a good look at UM, and know all the facts so they can make the best college decision possible.  You should read some of the testimonials from some of the more than 900 students we have helped attend UM.
To help with important information and steps along your application process, we've compiled a UM Applicant Recommended Timeline. (NOTE:  Both the University of Michigan-Ann Arbor and Flint location's Admissions Advisors' contact information are listed on the timeline as well.)