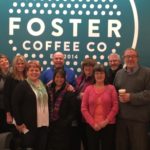 Program Overview
The Cook Family Foundation works with nonprofit organizations based in Shiawassee County to help them strengthen their ability to carry out their mission.  Three goals frame the work of the Nonprofit Capacity Building Program:
Individual Impact: Develop the knowledge and leadership capacity of nonprofit staff and board members;
Organizational Impact: Build the infrastructure of the organization to improve the strength, sustainability, and effectiveness of nonprofit operations; and
Community Impact: Foster conversations and strategic partnerships that encourage nonprofits to make a more proactive and intentional role in community problem-solving.

Our Teammate: The Nonprofit Network
To achieve the goals of the Nonprofit Capacity Building Program, we work closely with the Nonprofit Network, a Michigan-based management and governance support organization. The Nonprofit Network provides on-site training, organizational assessments, board education programs, executive director coaching, technical assistance, and access to both on-line resources and in-person consulting services.
Shiawassee-based nonprofits are eligible to apply for membership in the Nonprofit Network. With prior approval, The Cook Family Foundation will cover the annual membership cost. Click here to learn more about membership and membership benefits. Contact Tom Cook or Yvette Collard for further information or to apply.
The Cook Family Foundation provides support services to nonprofits in four distinct ways:
Educational Opportunities:  We believe that Shiawassee nonprofits should have access, locally, to experts in nonprofit management, and we bring in presenters to our community for free educational programs (click here for a list of current and upcoming workshops).  If nonprofit leaders need specialized trainings outside of the community, they can apply to for a partial scholarship; contact the Foundation for an application.
Technical Assistance:  Organizations committed to continuous improvement seek out help and consulting advice.  The Foundation's role is to provide the resources to help nonprofits conduct internal assessments, survey external opportunities, and strategically plan for the future.  Because we believe such assistance needs to be part of a comprehensive educational, coaching, and consulting program, we limit grants in this area to participating nonprofits who are members of the Nonprofit Network. Additional resources are provided to nonprofits whose board and executive director have taken steps to further their own capacity.
Capacity Building Grants:  We like to give grants that help an organization grow, and as such we give preference in our grant-making to organizations that are part of a comprehensive self-improvement plan, like the Nonprofit Capacity Building Program. We seek to establish long-term partnerships with community nonprofits. Read more about our grant criteria and download an application on our Innovation & Impact Grants page (click here).
Collaborative Ventures:  We believe that none of us alone can be as effective as all of us together, and this is particularly true of any effort to improve our community.  We are committed to help initiate, participate, and financially support collaborative efforts in Shiawassee County.  If you, your organization, and others are ready to work together to tackle a community challenge, please contact us to set up a meeting.  We would like to be part of the effort.  We find that the collective impact model offers an excellent way to think about community change; you can learn more and read our thoughts here: (Collaborative Efforts Page)
For more information or to apply, contact Tom Cook at (989)725-1621 or [email protected]  You can also follow us on Twitter @ShiaNPCB
For more information about the Nonprofit Network, call (517)796-4750, or email them at [email protected].