Financial Aid Workshop November 2
Applying for financial aid is perhaps the most important, and most complex, task many a high school senior and their family will undertake.  To help academically talented students sort through this process, the Cook Family Foundation is holding a workshop on Wed-nesday, November 2nd from 7-9 p.m. at the Baker College Welcome Center in Owosso.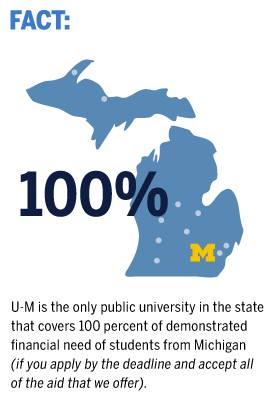 A representative from the University of Michigan Office of Financial Aid will provide important information about qualifying for financial aid, as well as some useful tips on making college more affordable.  U-M is the only public university in Michigan to cover 100 percent of demonstrated financial need of in-state students.  Learn more (click here) about affordability of the University of Michigan.
While the workshop will provide particular insight to financial aid from the University of Michigan, the presentation will be applicable no matter what four-year university a student ends up attending. The workshop will cover the basics of the FAFSA  which was available as of October 1, 2016—this is the form used by all institutions of higher learning. To qualify for financial aid from UM, students and their families will also need to complete a CSS Profile. Both of these applications are now available; the sooner they are submitted the more quickly a student will get a financial aid offer.
Students and/or their parents are invited to attend the November 2nd workshop.  While it is not necessary to RSVP, please contact us if you have questions (call us at: 989-725-1621 or email us at [email protected]). To keep up-to-date on financial aid, scholarships, and other UM information follow us on Twitter @GoBlueGoBruce