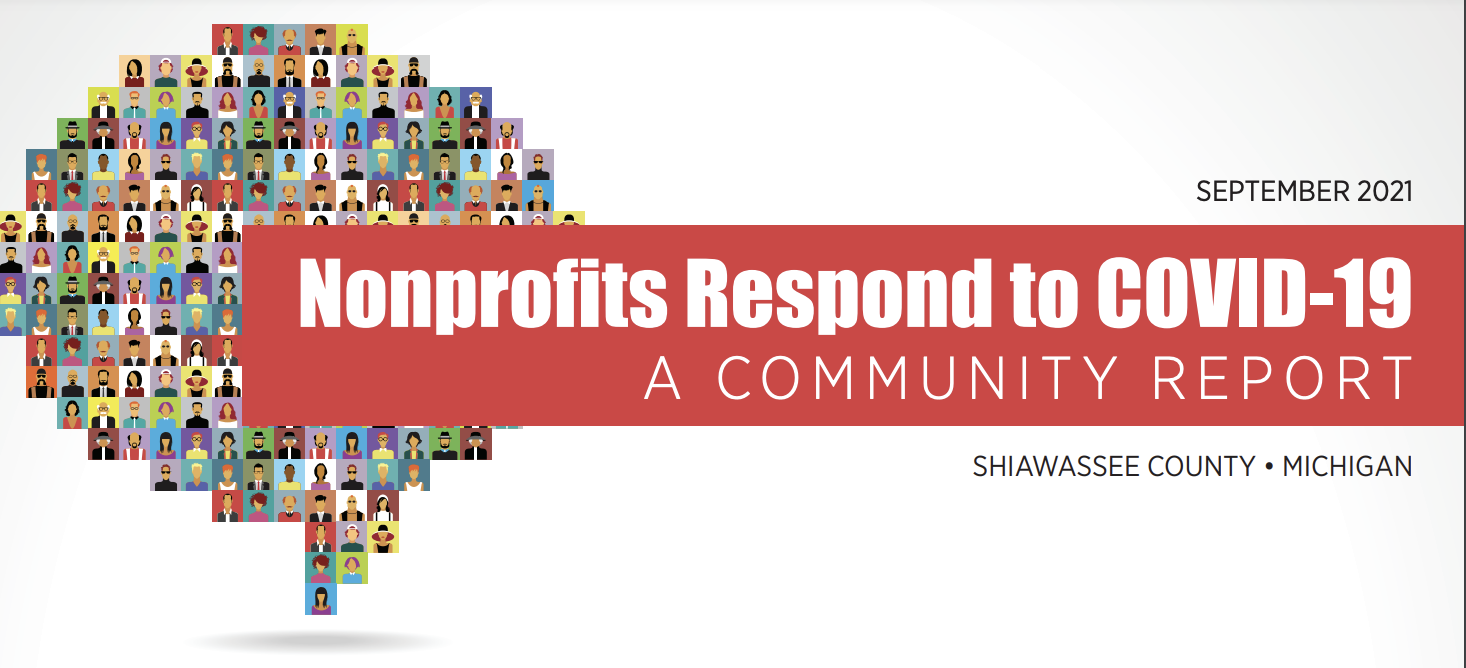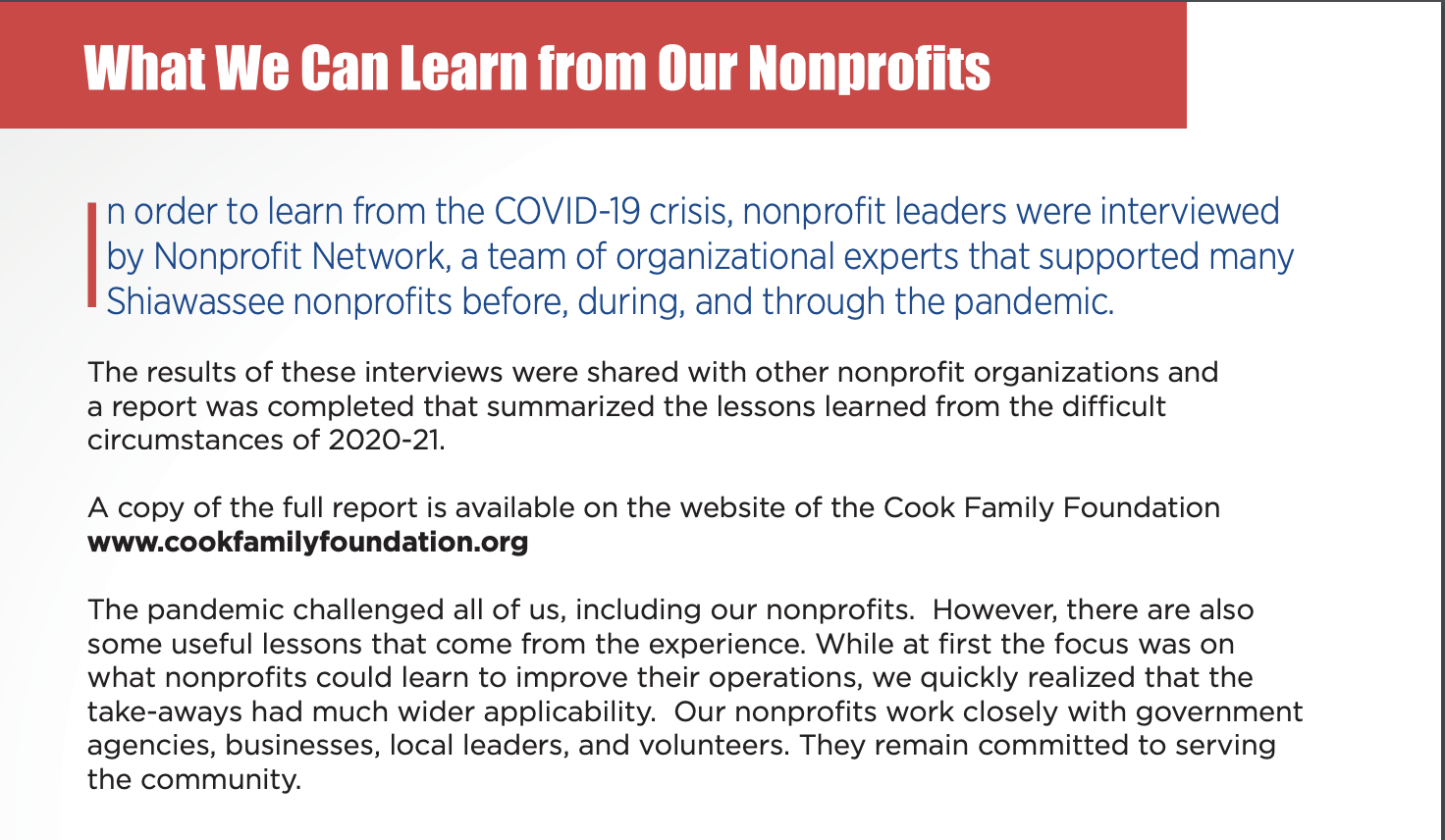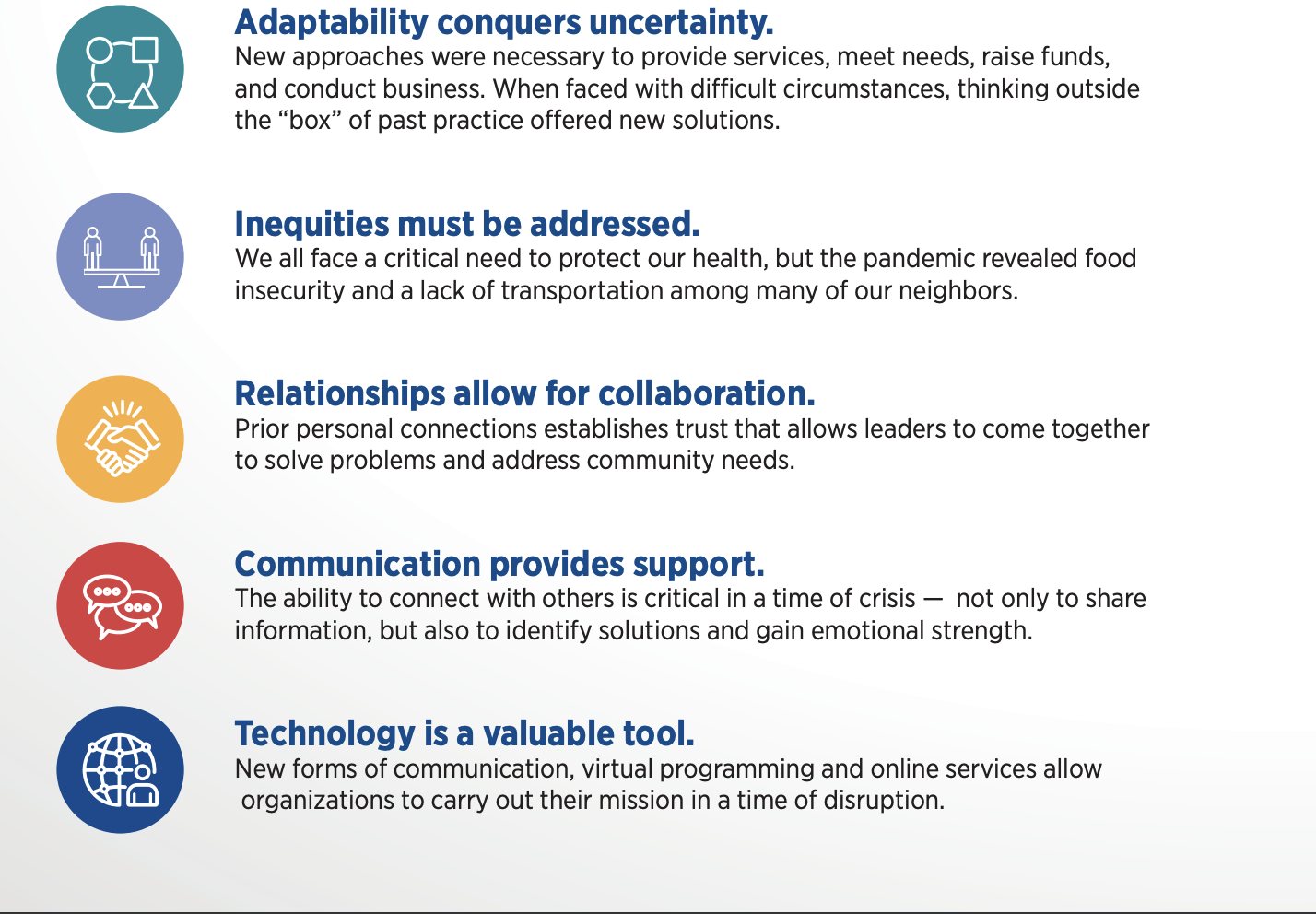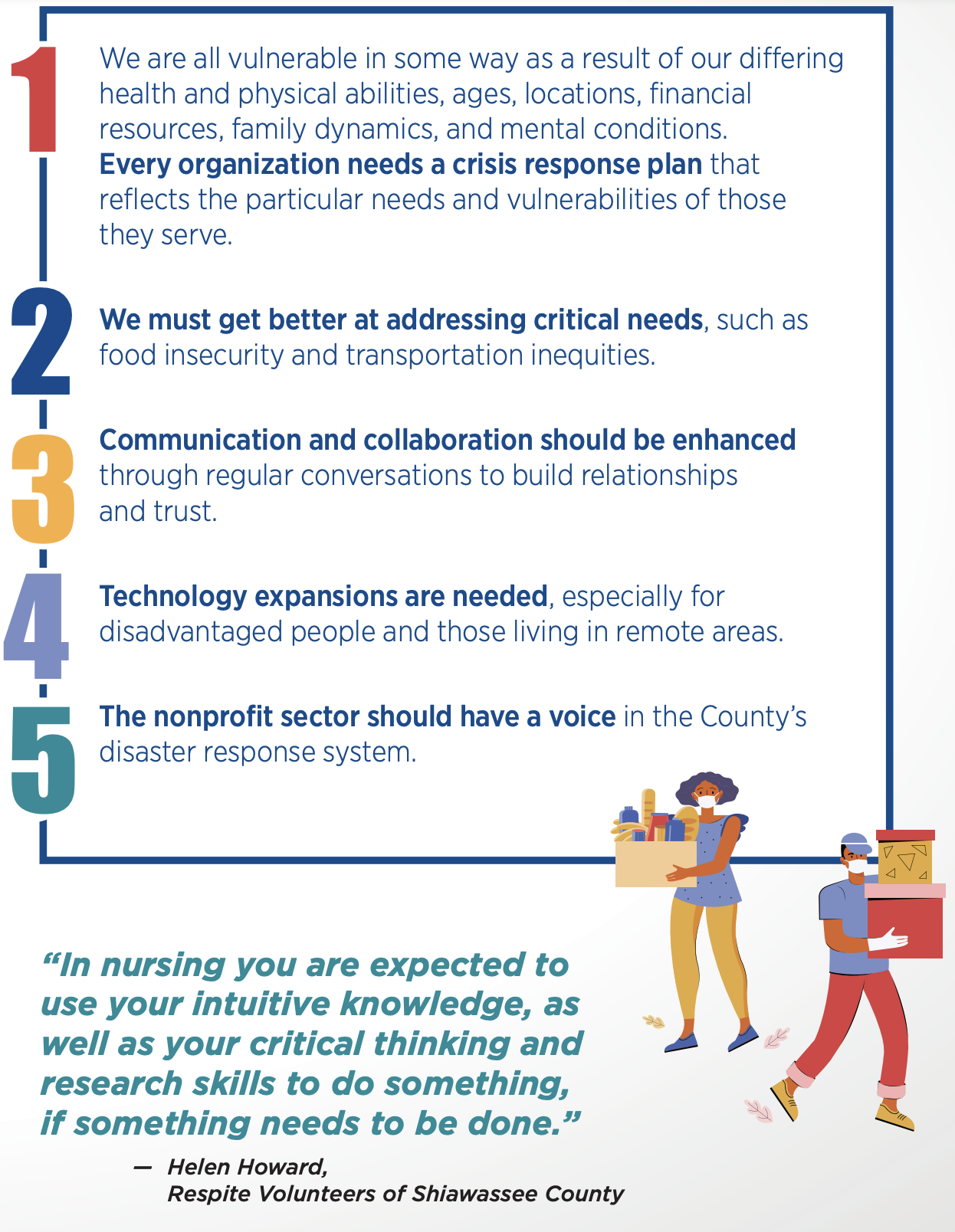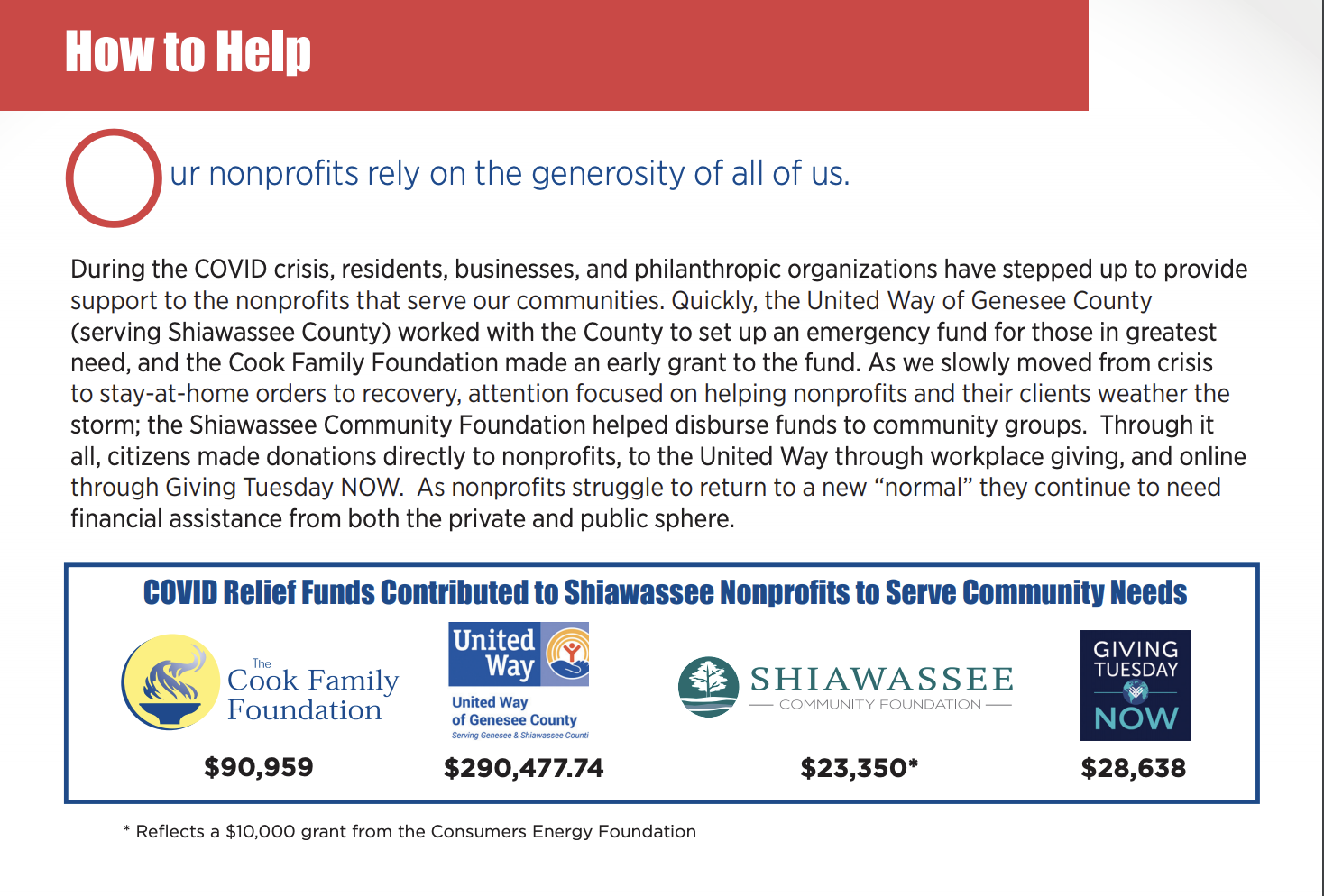 Change will come whether we want it to or not. The last year has challenged us all to adapt to some severe changes. Rather than let external forces determine the future, the Cook Family Foundation is taking several steps to set the direction of our philanthropy in the years to come.  First, the board recently revised and reaffirmed our mission and vision. Second, and perhaps most importantly, we have adopted three values to guide our decisions.  (Read these statements here).  Third, we have hired a new staff person to add capacity to our work.
The purpose of the Foundation remains unchanged: to serve as both a resource for the greater Shiawassee community and be a catalyst for positive change.  While our vision and mission builds on our history of grant making around education, the environment, and the arts, we have restated both to emphasize our commitment to community stewardship and our desire to collaborate with nonprofit and other organizational partners.  As we continue to navigate change, these statements serve as north stars.
To more clearly communicate to the community we serve, guide our grantees, and remind ourselves of our legacy and commitments, we have also articulated three values:  1) Be Inclusive; 2) Have Integrity; and 3) Make True Impact.  These values help clarify and expand our purpose.  They also serve as helpful tools to evaluate decisions and our behaviors as the staff and board of the Foundation.
Inclusiveness is an aspirational value to serve the community without bias and to strive to create opportunity broadly. Integrity reminds us of our responsibility to use our resources for the public good and be transparent and open in our work. Impact provides a ruler to evaluate our grant-making.  Together, we hope to use these values to provide a stronger, more responsive philanthropy.
The statement of values comes at an important time for the Foundation, as we begin to more actively involve the fourth generation of the Cook Family in our governance.  Bailey Cook Leppert, great-granddaughter of the founders Don and Florence-etta Cook, joined the board in 2020 and took a leadership role in working with family members of all three living generations to define these values.  They reflect our family legacy, several decades of grant-making, and the goals we have for the future.
As we continue to grow and prepare for the future, we have added capacity to better serve the community and our grantees.  Our new office manager, Kerry Dutcher joins our long-time Associate Director Yvette Collard.  Together, these two professionals will support Cook Family members and serve our stakeholders.
The last year has been challenging for all of us, and provided an opportunity to re-examine our purposes.  We hope to use the lessons of 2020 to inform and shape our work. In the years ahead, the Foundation will continue to be cognizant of changes in the community and the world. Guided by our mission, vision, and values, we will continue to make course corrections, adaptations, and improvements.  Your help and feedback is appreciated.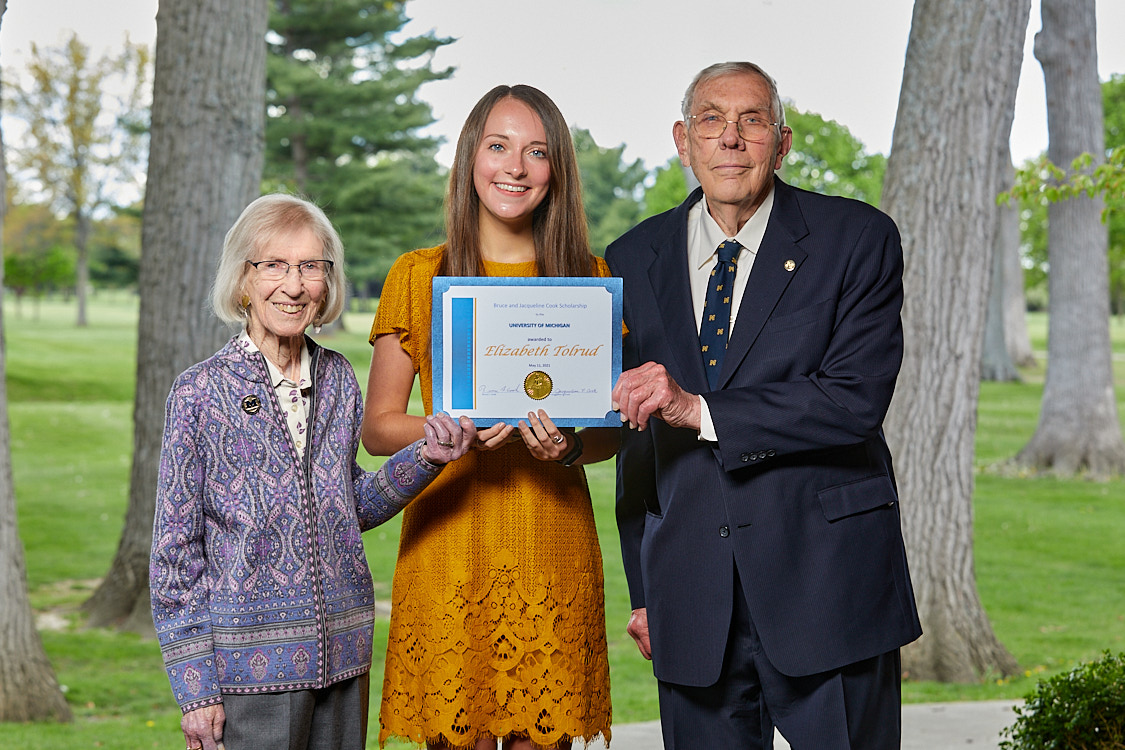 The Cook Family Foundation held a reception last night announcing 21 area high school seniors from 10 high schools have been awarded scholarships in various amounts to the University of Michigan.  The merit scholarships awarded by the Foundation and the University of Michigan totaled $159,500.
One student was awarded one of the highest accolades in the greater Shiawassee County region, the Bruce and Jacqueline Cook Scholarship, which provides four years of tuition to the University of Michigan in Ann Arbor.  An additional 20 students have received scholarships from the Cook Family Foundation, including one recognizing the Foundation's benefactor, Donald Cook.  "It is great to get to celebrate in-person with these outstanding students, and give them some recognition for maneuvering through this pandemic so successfully academically–they certainly deserve it!"  said President, Bruce Cook.
Elizabeth Tolrud of Owosso was awarded the Bruce and Jacqueline Cook Scholarship, which is funded by its namesakes separately from the Foundation.  High school seniors in the Shiawassee region are nominated each fall and pre-pandemic students are normally invited on a trip to Ann Arbor. Winners are selected based on their educational achievement, leadership and scholarly promise. 
Elizabeth is the daughter of Michael and Carol Tolrud. She is the valedictorian of her class at Owosso High School and was an area top-scorer on  her SAT's  as well as a Shiawassee Scholar. She also received a Regents Merit Scholarship from the University of Michigan.  She is President of the Shiawassee Youth Advisory Council, Senior Vice-President of Student Government, President of Model United Nations, Treasurer of the National Honor Society, and a section and squad leather in the award-winning OHS Marching Band.  Elizabeth is enrolled in the Honors College of the Literature Sciences and Arts School at the University of Michigan and wishes to pursue a career in the environmental field, leading to a career as an environmental consultant, engineer or urban planner.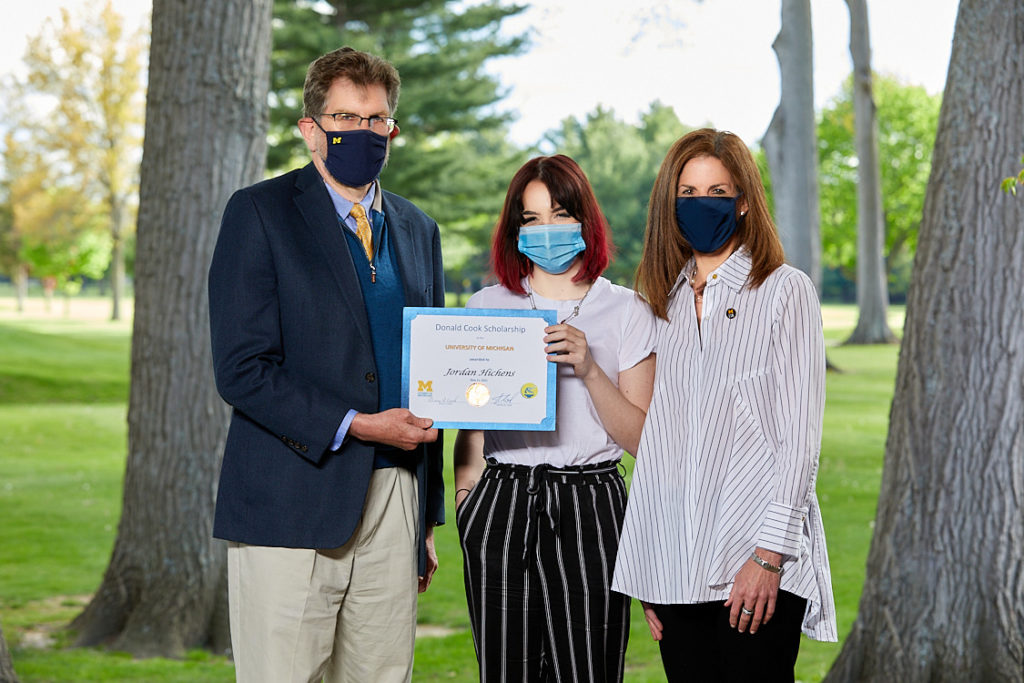 The Donald Cook Scholarship was awarded to Jordan Hitchens of Ovid-Elsie. The Donald Cook Scholarship, endowed by the Cook Family Foundation, is awarded by the University of Michigan to a student attending the College of Literature, Science and the Arts and is named after the 1924 graduate of the University of Michigan who established the Foundation with his wife Florence-etta in 1978.  This is a four-year scholarship worth $20,000. 
Jordan Hitchens is the daughter of William and Miranda Hitchens. Jordan is the valedictorian of her class and has had significant academic accomplishments at her school, with AP and dual enrollment classes through Lansing Community College.  She intends to pursue a degree in Psychology with plans to attend medical school in the future to study psychiatry.  In addition to being an excellent student, Jordan is an accomplished artist and has been involved with the National Art Honor Society; she is currently the President of that organization.  She plans to continue with the arts at UM as well as taking advantage of the excitement and diversity of Ann Arbor.  "We are confident she will go on to great things," noted Tom Cook as he presented her with the Donald Cook Scholarship.
Of the 21 scholarship recipients from the ten area high schools, six are valedictorians of their class and thirteen of them are Shiawassee Scholars. Scholarship winners include, from Byron Area High School, Sarah Marvin; from Chesaning Union High School, Ethan Kohagen; from Corunna High School, Isabel Rau; from Durand Area High School:  Elijah Beland, Goldyn Graham, Mackenzie Pancheck, and Brynn Patsey; from Laingsburg High School,: Cameron Allen, Grace Graham, Ethan Regan, and Dawson Shastal; from Morrice High School, Owen Latunski; from New Lothrop High School:  Grace Adelberg and Matthew Bishop; from Ovid-Elsie Area High School, Jordan Hitchens; from Owosso High School, Ruthie Dignan, Silas Krajniak, Isaac Taylor, Elizabeth Tolrud, and Reyn Tuttle; and from Perry High School, Parker Lewis.
The aforementioned reception to recognize scholarship winners and their families was held at the Owosso Country Club. Honorees had the additional honor of Dr. Anne Curzan, Dean of the College of Literature, Science, and the Arts as the guest speaker. Dean Curzan is a trained linguist who dedicated an earlier strand of her distinguished career studying how the english language "got to be the way it is".  Along the way she has received numerous awards for outstanding research and undergraduate teaching.  Today she is dedicated to making the LSA school a model of a liberal arts college within a top-ranked research university.  She earned her Bachelor of Arts degree from Yale and Masters and PHD from U of M.
While these students plan on attending the University of Michigan in Ann Arbor this fall, a number of other students will be attending UM-Flint (to be announced separately later). The Foundation provides scholarship support to high-achieving students attending any of the University of Michigan campuses.  You can learn more about these and all of our scholarships at:  https://www.cookfamilyfoundation.org/scholarships/