Major Exhibit Showcases Community History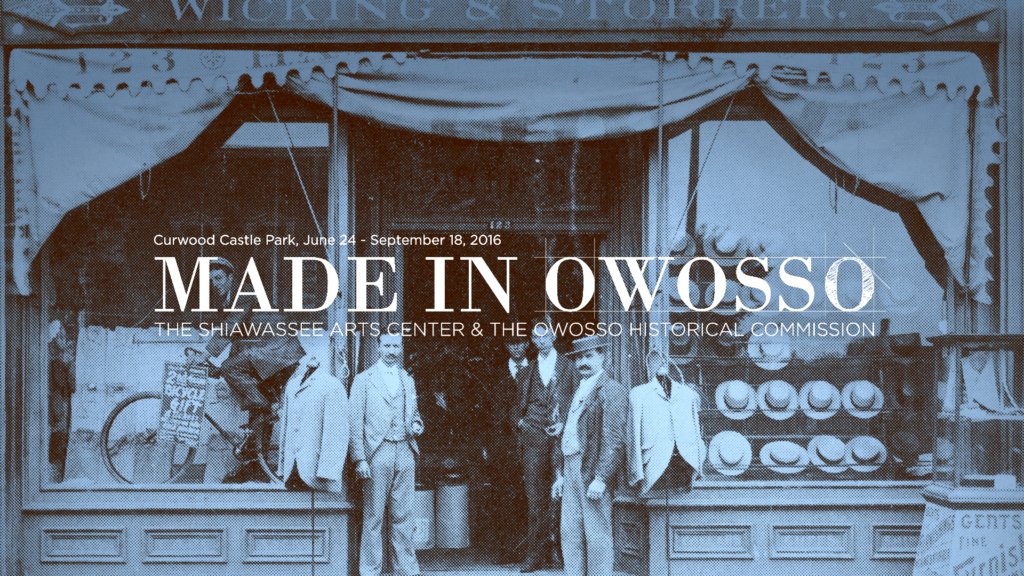 Manufacturing made Owosso, just like many towns in Michigan that were settled in the 19th century and boomed in the 20th century.  This important history is the subject of a current exhibit being put on by the Owosso Historical Commission and the Shiawassee Arts Council.  Major financial support for the exhibit comes from the Cook Family Foundation.
In four different venues along the Shiawassee River, the exhibit showcases photographs, historic documents, and actual products from a number of companies that made furniture, food stuffs, records, sleighs, printing supplies, automotive components, and a range of other goods.  Most of these items can be found in the Shiawassee Arts Center and Curwood Castle.  Comstock Cabin, an historic early structure, contains information about the people who participated in the founding of Owosso in 1836.  The Woodard Paymaster Building tells the story of Lyman Woodard, who established the furniture company that still bears the family name.
The exhibit will be on display and open to the public free of charge through September 16.  A series of events will be held throughout the summer that highlight the historical and cultural assets of several partner organizations.  A calendar, along with background information, can be found at the exhibit's website www.madeinowosso.org
Many of the businesses that were started in the previous century are now gone from Owosso.  However, the influence they had on the design, growth, and development of Owosso are still felt.  So too, the charity of individuals and families that started businesses has shaped the lives of many in the community and has served as a legacy to these entrepreneurs.  Wolverine Sign Works, founded 100 years ago, generated the wealth that led to the creation of the Cook Family Foundation. We are proud to be part of the history, and future, of Owosso.  (Go here to see a video about the benefactor of the Foundation).