Fellows to Share Their Experiences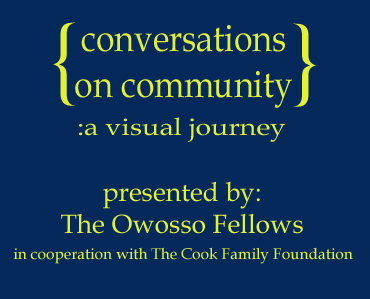 Do you need a new perspective on our community?  Sometimes we think we know all that we need to know about Owosso and Shiawassee County, the issues we need to deal with, and the organizations and people we work with.  At the Cook Family Foundation, our view is often refreshed when we talk with the next generation, and we are fortunate that several of our programs brings us that opportunity.
On July 31, six Owosso Fellows will be offering us a new perspective on our community.  For the last several weeks, these college students have been working for local organizations, doing several service projects, and learning about small town life. On Thursday, July 31, from 4-8 p.m. at the Jordan Gallery (118 N. Washington St. in Owosso), they will share "Conversations on Community: A Visual Journey."  This will be a personal and collective expression of their experiences in Shiawassee County, something they have captured by taking a photo a day during their time here.  The Fellows will be in the gallery in an open house format, so stop by anytime.
The Cook Family Foundation's Owosso Fellows program (see more info here) has brought together three of our local scholarship recipients attending the University of Michigan together with three students from Yale University.  From Michigan they are: Christian Van Epps, who has been working for the Shiawassee Economic Development Partnership; Courtney Crawford, promoting early childhood health through Great Start Shiawassee; Emma Tompkins, an intern at the Shiawassee Arts Council.  The Yale students are: Mary Shi, who is helping plan pedestrian and bike improvements for the City of Owosso; Chloe Larkin, promoting tennis and fitness through the Shiawassee Family Y;  and Spencer Klavan, who is directing "Robin Hood" with the Owosso Community Players.
For more information contact the Foundation office at 989-725-1621