We Mourn the Passing of Bruce Cook
It is with a heavy heart that we announce the passing of the Foundation's President, Bruce Cook.  A formal  obituary and announcement of services is available here
Bruce Cook was born December 30, 1928 at Memorial Healthcare in Owosso, the son of Donald and Florence-Etta "Cookie" Cook, the benefactors of the Cook Family Foundation. He graduated in 1946 from Owosso High School and attended the University of Michigan where he earned bachelor's (1950) and master's (1951) degrees in Business Administration. He was married to Jacqueline in La Jolla, California on April 25, 1953, while serving as a US Navy officer during the Korean War.
After a career as a homebuilder in Port Huron and Niles, he returned to Owosso in 1971 to join his father at Wolverine Sign Works.  Bruce was instrumental in the creation of the Cook Family Foundation in 1978, and assisted his parents with the Foundation's first grants, and helped the Foundation in 1997-98 absorb the estate gift of Donald Cook and appoint Tom Cook as the first Executive Director of the Foundation. Upon his retirement from Wolverine Sign in 2009, he volunteered as the full-time President of the Cook Family Foundation.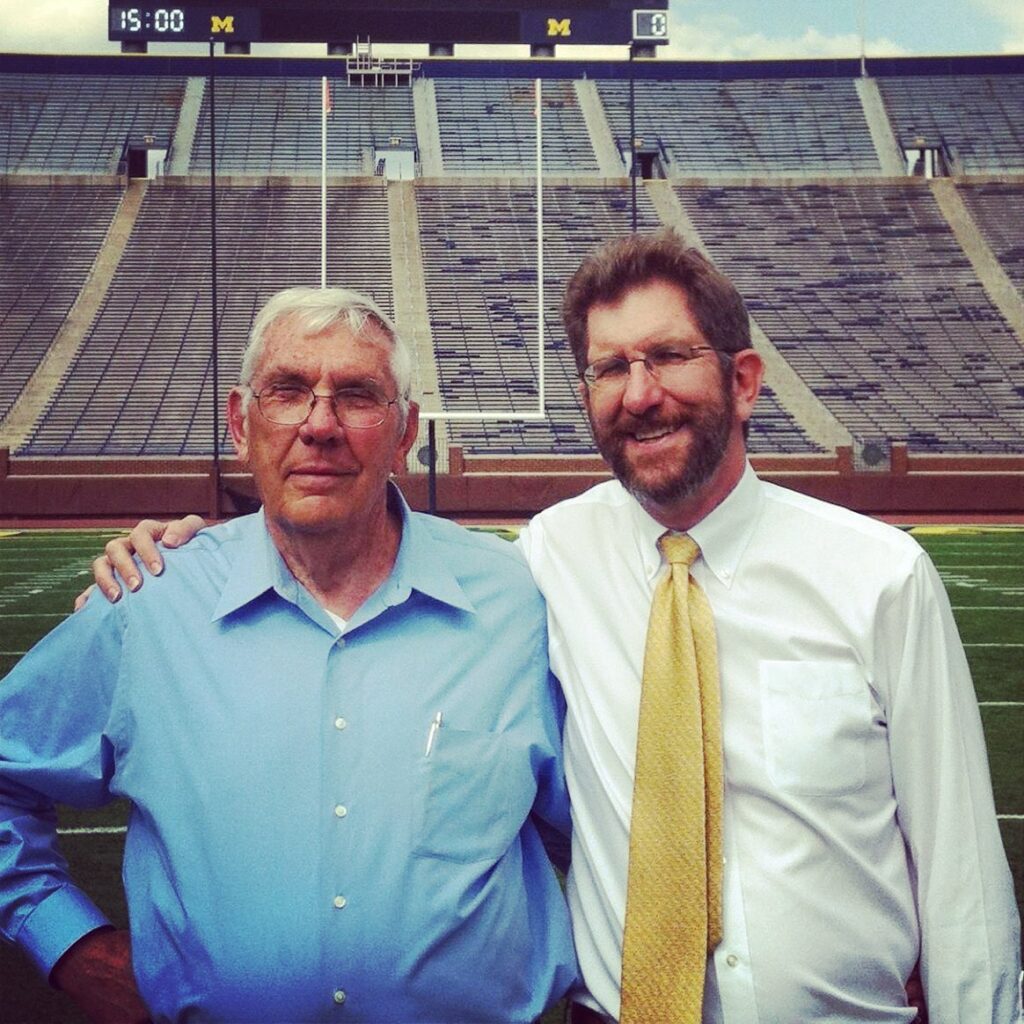 Throughout the 44-year history of the Foundation, Bruce actively recruited students to the University of Michigan, and helped award more than 885 scholarships to students from the greater Shiawassee County region. Separately from the Foundation, Bruce and Jackie Cook award an annual four-year, full tuition scholarship to the University of Michigan.  There have been 18 recipients of this scholarship and through the cooperation of the Foundation, Jackie Cook, and the University of Michigan, this scholarship will continue.
Bruce was a founding board member of the Shiawassee Economic Development Partnership, and an emeritus board member of the Shiawassee Family YMCA.  He believed strongly in the work of local nonprofit organizations, and volunteered–and personally donated to–a large number of community and civic causes.
A celebration of Bruce's life and his charitable work was held on  Sunday, October 30 at the Performing Arts Center at Owosso High School. See the Celebration of Life Slideshow – Bruce Cook (credit DLP David-Lorne Photographic) and/or Photos taken during Celebration of Life event (credit Harley J Seeley Photography).
Memorial contributions in Bruce's name may be made to Christ Episcopal Church or the Shiawassee Family YMCA.