Thank You for your part in helping to Raise UP Shiawassee!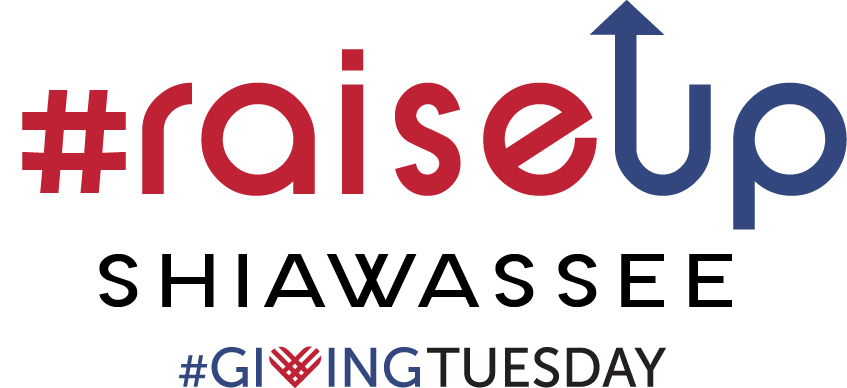 It has been said before, but it bears repeating–we are stronger when we come together to improve our community.  On November 27, #GivingTuesday, Shiawassee County residents had an opportunity to help support 17 community organizations.  This collaborative effort, working under the hashtag #raiseUPshiawassee, provided a connection to each nonprofit so folks could make a donation or find volunteer opportunities.  
Over $52,000 was raised in donations to local non-profits.  The Cook Family Foundation is providing another $16,000 in match and challenge grants.  The total of $68,000 was more than triple the amount raised in 2017.  But this year, our second, we gained so much more than money:
Nonprofit organizations built strong connections with each other by working collaboratively;

Nonprofit organizations 

reinvigorated connections with the community and built stronger awareness of their importance to civic health and quality of life;

Community support groups like the Cook Family Foundation, Shiawassee Community Foundation, and Genesee United Way became stronger partners to local groups;
Nonprofit organizations learned how to use new online tools to raise funds and awareness;

Many organizations found new volunteers to help out with beneficial work;

Several groups collected valuable donations and did charitable work on Giving Tuesday itself;
We all had the pride and satisfaction of working together to celebrate generosity and raise up Shiawassee County.

How did this collaborative effort come about?  Inspired at the Giving Tuesday Summit in Dallas in May, co-chairs Lorraine Austin and Yvette Collard came back ready to put ideas about "New Power" and shared responsibility to work!  The kickoff to a whole new way of looking at GT began in June as 17 local nonprofits committed to work together. Rather than encouraging the group of nonprofits to each work to get a piece of the Giving Tuesday pie, the idea was to work together to create a Giving Tuesday buffet. The goal was to make Giving Tuesday not just about getting donations, but about engagement and community awareness.  The label "Raise UP Shiawassee" was decided upon and embraced by all participants.
Each step of the decision process was done collaboratively and by consensus, with input from ALL– from choosing a name, to logo development, to the focus on impACT activities vs. donations.  Raise UP Shiawassee organizations rolled up their collective sleeves and began to work on the idea of an event to not only bring folks together, but to do so in such a way as to bring them together with nonprofits. The goal was to help people really make a connection, and the Find Your Nonprofit Soulmate event idea was born (or borrowed, rather, from ideas tossed around at the GT Summit)!
Volunteers are needed as much as money, and each of the 17 organizations defined some specific volunteer opportunities for the event we held two weeks prior to Giving Tuesday. The Find Your Nonprofit Soulmate Event was a sort of speed dating opportunity to match potential volunteers with the nonprofits who need them.  You may have seen it online, as the wonderful folks of givingtuesday.org  let us take over their InstaGram page to feature this unique event. Folks were able to meet with someone in person, learn more about their organization, and find specific volunteer opportunities.  They could even sign up for or look at these opportunities online  to volunteer via the top-notch database the United Way developed, Shiawassee Serves.
Then, on November 27, Giving Tuesday itself, there were a number of places to volunteer, take a giving action, or learn more about each organization.  All area residents had to do was to look for the Raise UP Shiawassee sign in front of a nonprofit, or visit the orgs' website or Facebook page for details–each of which were active on Facebook and other social media.  One could actually find all the activities under a search for the hashtag #raiseUPshiawassee, such as:  Lincoln Alternative High School students delivering poinsettias to long-term care,  hospice or cancer treatment patients; local businesses like Foster or Blossom Boutique donating a portion of the day's sales to one of the nonprofits as well as collecting donations; a relay treadmill "Girls on the Run Is So Much Fun" run with sponsored miles raising monies; tours of local shelters; "Big Wheels Delivering Meals" via the local Council on Aging; and MORE!
All of the organizations involved made it easy to give online, although checks and cash were also accepted. The Cook Family Foundation offered a challenge grant of $500 to each nonprofit to start them off as each were featured in their own "social media blitz" in the November days leading up to Giving Tuesday, as well as offering another grant matching the first $500 of online gifts on Giving Tuesday.  Several of the organizations secured other pledges to match donations. So, even a small gift was able to make a big impact when matched and in combination with others.
Other great contributors to this community collaborative were, State Representative Ben Frederick (who did a video for us),  The Shiawassee Community Foundation (who sponsored the video and did several advertisements), the Genesee (Shiawassee) United Way (who sponsored the Find Your Nonprofit Soulmate Event), local radio stations:  103.1 WOAP-–The Big O (who remotely covered our event) and 92.5-The Castle and 103.9-The Fox (who featured the Raise UP Shiawassee campaign on their In Focus Program), Schutt Photography, Amber L. Fuller (#raiseUPshiawassee logo design); The Argus-Press, Independent News Group and Meridian Weekly (who gave us great press coverage), and the Shiawassee Regional Chamber of Commerce (who donated the unique space for the Soulmate event).  The true stars of the community campaign, however, are the 17 local nonprofits (list here) who day after day, month after month, year after year continue to strive to #raiseUPshiawassee to a stronger community for ALL.