Scholarship Winners Celebrated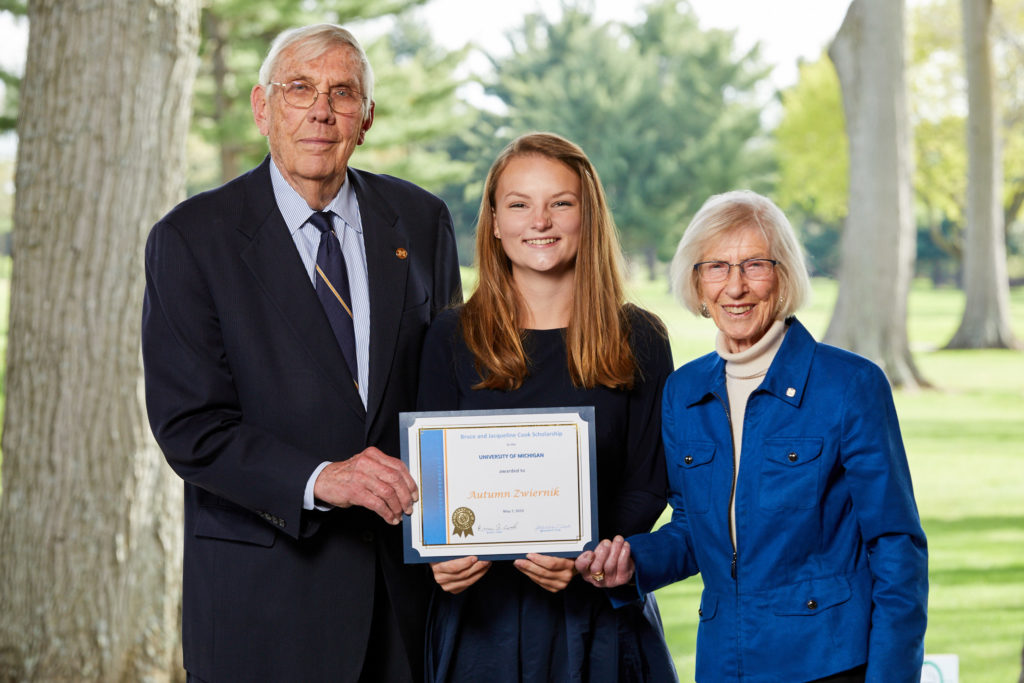 This fall, 20 young men and women from nine area high schools will receive scholarships to the University of Michigan in Ann Arbor thanks to the generosity of the Cook Family Foundation.  The future Wolverines were recognized at a dinner on May 7 and two students received special scholarship awards.
Laingsburg resident Autumn Zwiernik was awarded the Bruce & Jacqueline Cook Scholarship.  This four-year, full tuition scholarship is funded separately from the Foundation by its namesakes.  Autumn is the daughter of Matthew Zwiernik and Denise Kay and is a graduate of Del Mar Academy in Costa Rica, where she has spent the last year developing her Spanish skills and doing research on sea turtles.  She intends to pursue a science degree and study environmental issues at the University of Michigan.
The Donald Cook Scholarship was awarded to Olivia Graham, Laingsburg High School valedictorian, and the daughter of Troy and Shannon Graham.  She has been either President or Vice President of her class for the last four years, and is President of the Michigan Congregational Youth Council.  Olivia will investigate a major in political science, women's studies, or public health.
The Donald Cook Scholarship is awarded by the University of Michigan to a student attending the College of Literature, Science and the Arts and provides $5,000 per year for four years at U-M.  It has been financially supported by the Cook Family Foundation in recognition of the Foundation's founder.
Special guest speaker at the event was Kedra Ishop, Vice Provost for Enrollment Management of the University of Michigan. Dr. Ishop oversees undergraduate admissions, financial aid, the registrar, marketing and communications. Dr. Ishop noted how competitive admission to UM has become, reporting that this year there were over 65,000 applications for only 6,800 places in next year's incoming class.  She congratulated the incoming students from Shiawassee County and provided advice on how best to take advantage of the higher education opportunities in Ann Arbor.
Of the 20 scholarship recipients from the nine area high schools, six of them are valedictorians of their class. Scholarship winners were: from Byron, Lillian Keesler and Timothy Marvin; from Chesaning, Weston Wendling; from Corunna, Charles Bruckman, Benjamin Jacobs, and Jacob Johnson; from Laingsburg, Malinda Barberio, Olivia Graham, and Zachary Koonter; from Morrice, Rhianna Lucas, from New Lothrop, Garrett Birchmeier, Caitlynn Bruff, and Charles Weber; from Ovid-Elsie, Haley Hilgendorf and Jakob Loynes; from Owosso, Abigail Christian, Taylor Estes, and Morgan Louch; from Perry, Ella Fisher; and from Laingsburg, Autumn Zwiernik (Del Mar Academy).
Eleven of the scholarship winners were recognized as Shiawassee Scholars when in eighth grade.  This program, funded by the Cook Family Foundation and operated by the Shiawassee Regional Education Service District, supports academically talented students during their high school year.  The program begins with an overnight college trip for eighth graders right after their graduation from middle school. Scholarship winner Autumn Zwiernik noted that she was inspired to attend the University of Michigan after attending the Ann Arbor campus on this trip four years ago,
More information on the Foundation's scholarships can be found here.