Next "Tech Talk" on April 14
Our addition to the NonProfit Capacity Building Program, "Tech Talk" networking has been a great success.  We're now approaching our fourth meeting–but it's not too late to join in!  If you'd like to be a part of it and haven't yet signed up, reply to this post, or Tweet us @ShiaNPCB or @awolber
The tech group will meet again on April 14, 2015 at The Arc Shiawassee (1905 West M-21, Owosso, MI) where we'll focus on Enough Technology for your Nonprofit.
---
Enough Technology for your Nonprofit by Andy Wolber (@awolber)
The more time and money you spend on technology, the less you have available to help people. Spend too much, and you'll waste time with trendy tools that serve no mission-related purpose. Spend too little, and you'll lack the systems you need to serve people efficiently or effectively, much less improve or innovate.
You need enough technology to fulfill your organization's purpose. But "enough technology" varies from organization to organization. For some organizations, like a hospital, technology must work. Lives depend on it. In other organizations, technology reduces the time dedicated to tedious tasks.
How much technology is enough? You need to arrive at an answer appropriate to your organization. Your team, your culture, your purpose, and the tools you already use will inform your decisions. (Competitors and laws might affect your choices, too.) A tech expert can identify tools, but you need to choose what works for you.
The following items may help you think about your organization's technology a bit differently, so that you — and your team — may choose what constitutes "enough".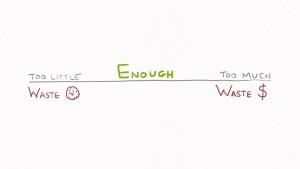 Internet
You need a sufficiently reliable and fast internet connection for your team and guests. Check your connection speed at Speedtest.net, or with the Android or Apple mobile app. If the speed exceeds 25 Mbps down and 3 Mbps up, your connection qualifies as broadband, according to the FCC (as of early 2015).
You need enough bandwidth to support your organization's use of the internet. Available bandwidth decreases as usage increases. Video conferencing, for example, requires a fast connection. Start a Google Hangout with 10 people, and you'll need about 4 Mbps down and 2.6 Mbps up.
Three other factors affect your internet speed:
your connection (often cable or DSL),
your network devices (modem/router, switches, cables and WiFi), and
your device (typically 802.11n or the faster 802.11ac).
Think of these items as a series of pipes: the slowest pipe limits the bandwidth. Improve the slowest of the three to increase performance. If you adjust device settings you can often improve performance. But settings tweaks won't overcome hardware limits: you might need new equipment.
Devices
You need enough sufficiently powerful devices to accomplish your tasks. Buy the fastest, most powerful new device to handle challenging tasks. Buy an older model to accomplish basic tasks and save a bit of money. Stop using a device when the manufacturer no longer updates or supports the device's operating system (or firmware).
Replace devices on a regular schedule, so you're not stuck with a lot of old equipment you need to replace all at once. Broadly speaking, replace desktops every 5 years, laptops every 3 to 4 years, tablets every 2 to 3 years, and phones every 2 years. For devices that people will use daily, buy new, not used, to minimize reliability and support worries.
Applications
Applications need to be available, collaborative, and connected enough.
Your applications should work on whatever systems you — and your team — use. Often, I suggest people choose applications that work on the web (in a browser), on Android devices, and on Apple mobile devices. In addition to staff, people outside the core team, such as board members and/or volunteers, may benefit from access to applications.
Multi-person, shared access should be possible, too. To create a grant request, for example, your team should be able to login and edit a single shared document or spreadsheet. (Note:  don't share logins; that presents a security risk and may violate a site's terms of service.)
Applications should be connected enough that you don't need to retype or reformat data. When a person donates are the gift details entered once or many times? When a person you serve changes their address, email, or phone number, how many places do you have to change it? Ideally, one would be enough.
Your team should be very clear which app should be used for each task. Alternatives abound. People who use Apple devices might prefer Pages. People who use Android devices might prefer Google Docs. People who use Microsoft devices might prefer Microsoft Word. Work with the team to establish acceptable practices.
Data
Your data needs to be accessible enough and safe enough. These goals may be in direct opposition to each other. To maximize security, your data would never be on any system connected to the internet. To maximize access to data, you store your data online. You'll need to seek a middle-way that keeps your data both safe enough and accessible enough.
Finally, your data should be backed up. Your backup system should copy your data automatically, and store your data in a different place than the original, such as another office or a data center.
Your choices
Past choices produced the connectivity, devices, applications and data in your organization today. What changes might you make? Do you and your team have enough technology to serve your organization's purpose?