Now is the Time to Help One Another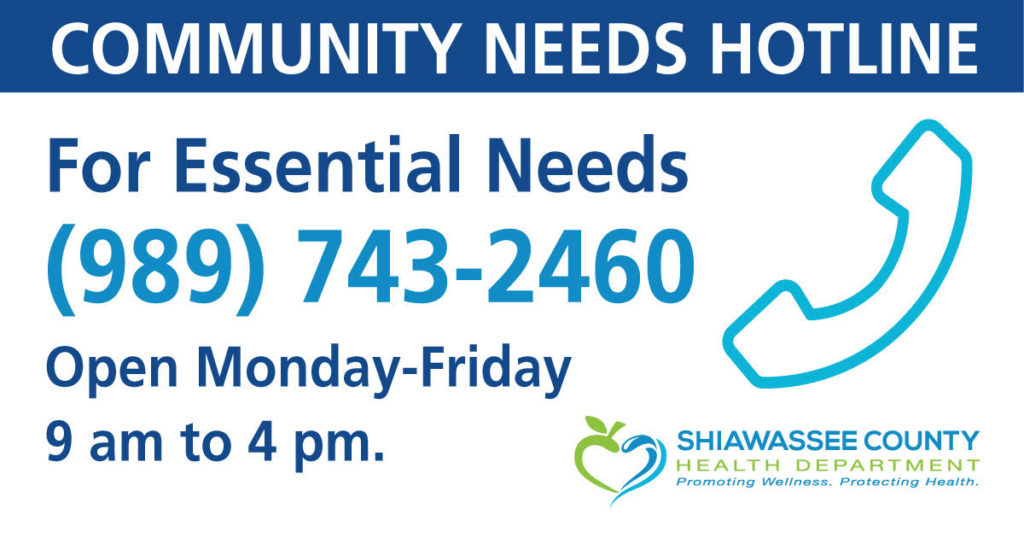 The scary realities of the COVID-19 virus have struck us deeply, and challenged us all as individuals and as a community. Now, when our commitment to public health keeps us apart, we need to work extra hard to support each other. People in Shiawassee County–local officials, businesses, nonprofit organizations, and volunteers–have come together in many ways to help one another.  Now, the United Way has established a local fund to provide support to Shiawassee County residents most in need.  The Cook Family Foundation has invested in this fund, and we now ask you to contribute what you can.  You can give online at raiseupshiawassee.org (click here to donate). All of the funds stay in Shiawassee County.  Thank you.
In the early days of the crisis, Shiawassee County officials and a number of agencies and nonprofit organizations came together to establish a hotline to provide both health information about COVID-19 but also direct people to local resources to meet essential needs.  The number for the community needs hotline is 989-743-2460.  It is staffed from 9 a.m. to 4 p.m. and after hours a caller can leave a voicemail.  Already this hotline is providing a valuable, local service to those with questions or in need of assistance.
The same people that helped establish the community needs hotline recognized that some Shiawassee County residents and organizations are, or will be, in need of financial assistance.  Fortunately, the United Way of Genesee County, serving Shiawassee County, had worked with the Shiawassee County officials to establish a relief fund after a tornado in 2019 and that mechanism was re-started to provide support in response to the COVID-19 crisis. Donations are now being accepted through the United Way website to provide support for this relief fund.  The United Way is not charging an administrative fee to operate this donation site, and all of the funds collected will be distributed in Shiawassee County.  The funds will be managed by the Shiawassee County Emergency Operations Center (EOC) and local representatives will make timely funding decisions.
In addition to making a donation to this COVID-19 Response Fund, the Cook Family Foundation has been working to coordinate and support local nonprofit organizations through this crisis.  Our long-standing Nonprofit Capacity Building Program, and our consultants, the Nonprofit Network, are providing guidance to over 20 local nonprofits as they work to extend services while maintaining their governance and financial structures during difficult circumstances.
Before the COVID-19 crisis hit, we put together our annual report that was mailed in the midst of government directives to close businesses and reduce interactions.  There were three important topics in this newsletter:
Collaboration: We can accomplish more when we work together.
Raise Up Shiawassee: We have shown we can work together to raise money for local needs
Nonprofit Leadership: the staffs of our local nonprofits are committed, creative, and caring
All three of these themes will help us get through our current crisis.  Thank you for your support.