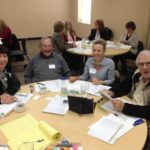 We believe that Shiawassee nonprofits should have access, locally, to experts in nonprofit management, and we bring in presenters to our community for free educational programs. These are open to all nonprofit staff and board members and other interested parties. 
Visit our events page for information on, and to register for, upcoming workshops.
Feel free to contact us or the professionals at Nonprofit Network for information on any session topic, or to determine if attending the future sessions will be right for you and your organization.
Executive Directors who are members of our Nonprofit Capacity Building Program are invited to attend bi-monthly meetings. This opportunity for networking and support will help you build management capabilities through peer learning. Come share up-to-date information about current trends and gather tools to help be a more effective nonprofit Executive Director.   Please contact us if you would like to join this group.
Scholarships.  Additionally, if nonprofit leaders need specialized trainings outside of the community, they can apply for a partial funding; simply contact the Foundation for an application.
---
To learn more about the Nonprofit Capacity Building Program: (click here: Capacity Building Participation).   If your organization is not already a member of our Shiawassee NonProfit Capacity Building program, then please email Yvette Collard at: [email protected] or call 989-725-1621 to hear more or to get on our notification list.
For more information on workshops and the NonProfit Capacity Building program follow us on Twitter @ShiaNPCB